How to get There?
Direction On How To Get To Our Lodge
Where is the Tortuga Lodge? Situated on the banks of the Tortuguero River directly across from an airstrip, we offer a unique and exclusive destination among Tortuguero, Costa Rica hotels. Our lodge is located on the northeast coast of Costa Rica, 47.5 KM (29.5 miles) from the Nicaraguan border. We are about one mile from the mouth of the Tortuguero River and about a ten-minute boat ride from town. You cannot drive to Tortuguero because there are no roads; the only way to get here is by a combination of bus and boat or domestic flight.
Complete Package
By far the easiest way to get to our Tortuguero Costa Rica hotel is to reserve a complete package that includes round trip transportation, lodging, excursions and meals, if you are interested in booking a complete package, please visit our Packages page.
Transportation
Here you have information about transportation options to get to Tortuga Lodge. There are several ways to do this, but first let me explain that Tortuguero is located on the northeast coast of Costa Rica.
The lodge sits on the bank of the Tortuguero River, 1 mile from the mouth of the river and about a ten-minute boat ride from the town of Tortuguero.
You can't drive all the way to Tortuguero because there are no roads. You can only get there by plane or using a combination of bus, rental car and boat transportation.

If you fly from San Jose, flight time is 30 minutes.
If you would like to book transportation by bus and boat with us, please contact us reservaciones@tortugalodge.com

Here are the options we offer to get to Tortuga Lodge, either traveling completely with us, a combination on your own and with us, and the more adventures option, you traveling all the way to the lodge on your own (if you decide to travel on your own and you need assistance, don't hesitate in contacting our operations department).
Here the options:
Option 1: Land and boat transfer from San Jose to Tortuga Lodge arrange with Tortuga Lodge:
Shared van transportation to/from San Jose to La Pavona, with Spanish speaking driver and English-speaking guide. Your van will have an ice chest with water for each member of group.
Transfers are included to/from hotels in the Metropolitan Area; there is a surcharge for hotels outside of this radius. (Please confirm with the reservations department if your hotel is in the metropolitan area or not)

-San Jose + La Pavona + Tortuga Lodge (price per person per way)
2 adults: $133.00 per person + 4% of taxes.
3-4 adults: $95.00 per person + 4% of taxes.
5-6 adults: $65.00 per person + 4% of taxes.

Option 2: Drive by your own to the dock and use the Tortuga Lodge & Gardens boat transfer.
-La Pavona Dock to Tortuga Lodge & Gardens: USD $40.00 + 4% of taxes. per person.
This boat depart at 11:00am (need to ask before if we are operating this dock).
If you are beginning or ending your trip to Tortuguero somewhere other than San Jose, we pick up and drop off at specific hotels in any of the following areas.
Option 3: Drive on your own and take the Public boat at La Pavona.
Public Boat: USD $10.00 per person
Public boat schedules from La Pavona to Tortuguero". Reservations are not necessary.
Monday to Friday:
06:00am
09:00am
12:00pm
16:00pm

Saturday and Sunday:
06:00am
09:00am
12:00pm
16:00pm

*The last public boat is scheduled to leave La Pavona at 4pm. However, they leave as soon as they fill up, so it could go earlier. You need to be there at least 30 mins before. It will take you approximately 1 hour to drive from Cariari to La Pavona. You need to be on the road driving towards La Pavona no later than 2:00-2:15pm to insure that you arrive in time. If you are not going to make it to La Pavona by 3:00 pm DO NOT drive all that way. You may miss the last boat. There is no place to stay in La Pavona, you will have to drive all the way back to Cariari.
When you get to the village, to get to the lodge,
If your arrival at the village of Tortuguero, you can get a water taxi from the public landing. They will know the Lodge, but their prices vary. Some will charge $10 to $15 for the trip, while others will ask for $10 per person.
You can also call us, Tortuga Lodge & Gardens Phone +506-4070-0420, and we will send a boat for you (It takes 15-20 minutes to get to you).  When we send a boat outside of the times above, we do charge for the boat. The costs are as follows (total cost, not per person): 1-4 guests $10, 7-10 guests $15, 11-15 guests $20.
I would be happy to book your transportation for you, let me know which way you want to go with it.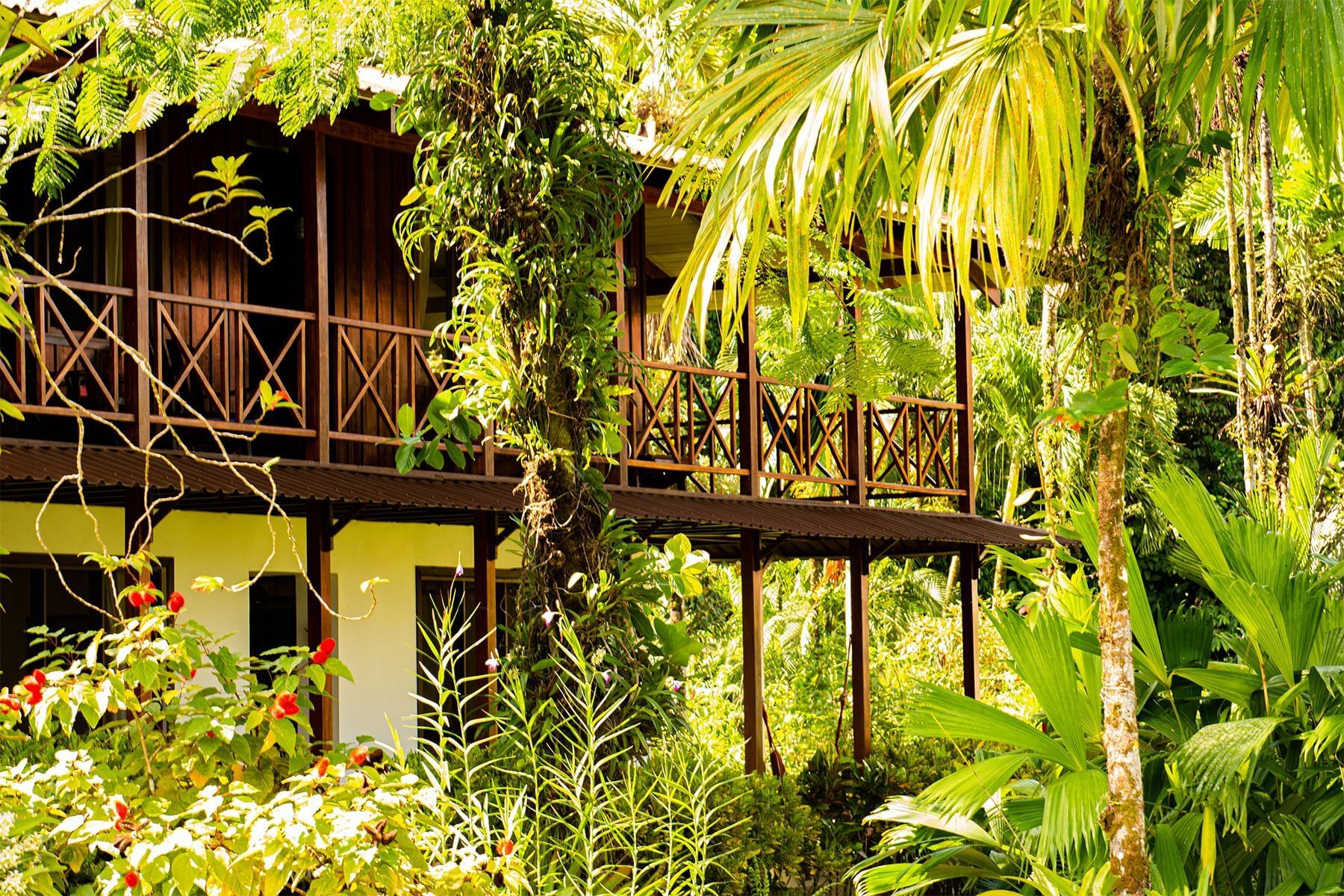 Driving Directions
Unless the water level is very low, we use the dock at La Pavona. However, as we mentioned earlier, this is dependent on the water level, and the only way to be certain we get it right is for you to call us the day before you drive.
If you're not renting a car through us and plan on bringing a Garmin GPS, we recommend purchasing the navigation software through the button below (a 10-day version is $49). EzFind uses up to date points of interest to navigate Costa Rica, as the street addresses you're probably accustomed to simply aren't used here.
Keep in mind that it takes 36 hours after purchasing to receive the EzFind software, which only works with Garmin GPS devices.
PURCHASE EZ FIND ONLINE
If you plan to buy a Costa Rican SIM card, you can also download the App, WAZE, this works with points of interest and works well for getting around in Costa Rica. You can adjust the settings so that it will speak to you in English and it will calculate distances in either miles or kilometers.

For directions to La Pavona, for example, you have two options that will get you there:
Puerto La Pavona – Tortuguero
La Pavona
Cariari, Limon, Costa Rica
Both options will take you from your location to the La Pavona dock.